The (Christian) Music that Shaped Me – Part 5
(In this series I've been sharing music that has been influential to me, personally. My hope is twofold: First, that some of my younger friends will be able to appreciate "from whence we've come" and to be encouraged to continue to seek fresh ways to communicate their faith through music. Second, that those of my generation will enjoy looking back a bit, but more than that, I pray that we will continue to recognize and encourage the creativity of today's Christian musicians. Here's where you can find the Introduction, Part 1, Part 2, Part 3 and Part 4.)
---
Elizabeth and Walter Ward had three kids. Their firstborn, Annie, was already 10 years old when Nelly came along in 1955 followed by the only boy, Matthew, in 1958.
Elizabeth died from a brain tumor in 1968 and Walter lost his life to leukemia in 1970. Nelly & Matthew were still minors so Annie, and her new husband, Buck Herring, decided to take them in.
As you can imagine, life in these circumstances wasn't easy, but Annie gathered the three siblings around her piano and they began singing together.
It sounded pretty awesome.
Eventually, Pat Boone heard them and produced a couple of singles for them. They also came to the attention of Barry McGuire who used them as back-up vocalists on a couple of his projects.
Their debut album, The 2nd Chapter of Acts *with Footnotes, came out in 1974. The same year I got married.
I have to admit that it took a little time to grow on me, but there was something unique about them.
The more I listened, the more this group affected me. As I think about it now, I realize that they are one of the sources of Christian music that shaped me.
Here's why:
1) Annie Herring's songwriting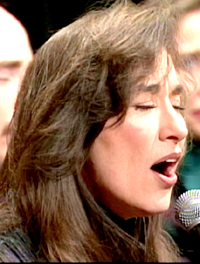 That first album featured Easter Song. Wikipedia has an interesting article on how their recording of the song came about which you can read here. There are very few church choirs that haven't performed that song and very few Christians who haven't heard it. It has even found its way into many hymnals.
I love Easter Song, but Annie's gift of writing unique music with powerful lyrics is evident on every single track they ever recorded. I've linked a few of my favorites below.
2) Nelly's sibling harmony
Nelly seldom, if ever, took the lead. She had a rich alto voice that filled the gap between Annie's soprano and Matthew's powerful tenor. The three of them had a blend and precision that is very rare. It was a beautiful thing to hear.
3) Matthew's voice
I'm pretty sure I've never heard anyone sing like Matthew Ward. He could blend with the girls to produce some of the sweetest harmonies you'll ever hear. But he could also melt your face with some vocal licks that could land him a job as front man for any number of heavy rock bands. Just listen to The Devil's Lost Again below! Matthew recorded several solo albums after his years with 2nd Chapter of Acts.
He, like his parents, has had his own dealings with cancer. But, unlike his parents, he has come through it alive. He continues to tour and sing and has provided back ground vocals for many artists including Donna Summer, LeAnn Rimes, Randy Stonehill, Sandi Patti, Jordin Sparks and others. I didn't realize this until I began writing this piece, but he has also written an autobiography, My 2nd Chapter: The Matthew Ward Story. I think I may have to read it!
4) There's one final thing that makes 2nd Chapter of Acts influential to me, and I think it's the most important, but I'm having a hard time putting it into words. It has to do with creativity. When you hear them, you get the impression that they're not trying to fit into some pre-defined genre. You can readily identify them when you hear them, but no two songs sound the same. I suppose that is due to Annie's songwriting mentioned above, but it's more than that. If you listen to the examples I've linked below, you'll hear music that still stands up well 40 years later. That doesn't happen when you try too hard to fit with what's "trending now."
They definitely did fit into that time and place, but I believe their music transcends both.
Lloyd
---
When I was a young man, just married and still trying to figure out where my life was going, this song spoke volumes to my heart. As I listen today with 42 years of marriage under my belt, two amazing adult daughters, 3 grandkids, and with a 35 year career of ministry behind me, I sometimes still wonder where my life is going. The song still speaks…
Which Way the Wind Blows
Which Way the Wind Blows
Anne Herring/Nelly Greisen 1974
Feel a feeling, say a saying,
But you'll still be lonely,
If you think life is only for this moment.
Do a doing, mourn a mourning,
Still won't get you off your sorrow.
So go ahead and cry,
but you can't pry a look at tomorrow.
You don't know which way the wind blows,
So how can you plan tomorrow?
You don't know which way the wind blows,
So how can you plan tomorrow?
Run a running, hide a hiding,
Whenever you hear the truth.
And when you ask for the proof,
you won't listen. Listen!
Praise a praising, build a building,
Trying to get peace into your life.
And you don't even know wrong from right,
Oh, Where is your wisdom?
You don't know which way the wind blows,
So how can you plan tomorrow?
You don't know which way the wind blows,
So how can you plan tomorrow?
Die a dying, resurrecting,
By believing and receiving,
Forgiveness from Jesus who took the sin from sinning.You don't know which way the wind blows,
So how can you plan tomorrow?
Jesus knows which way the wind blows,
So give Him your tomorrow!Believe Him and receive.
---
A few more of my favorites…
Featuring Matthew…
The Devil's Lost Again
---
You can really hear those beautiful harmonies in this one…

The Son Comes Over the Hill
---
And of course the original…

Easter Song