Big league baseball is big business. I get that. I hear people begrudge the players making so much money all the time. I do not. People will compare the salary of a Major League baseball player with that of a 7th grade school teacher and declare that our values as a society are all screwed up. I'm not saying that our values as a society are NOT all screwed up, but I don't think this is evidence of it. I mean, if millions of people were buying tickets to class, and businesses were paying for advertising time in the classroom, then I would say we should pay teachers the same as baseball players. But they're not.
Please understand me: when it comes to pay, and just general respect from the public, teachers are hugely undervalued in my opinion. It's just that baseball is different.
You really can't compare the two.
Major League Baseball brought in 8.39 billion dollars in 2015. Somebody will get that money. Shouldn't a lot of it go to the players? I mean, I like a Lemon Chill at the ballpark as much than the next guy (maybe more), but without baseball players there wouldn't be much point. I could just get my Lemon Chill at the grocery store and eat it while I study language arts.
But I digress.
Baseball is not a business to me.
Over time I feel like I build a relationship with these guys. Even If I get frustrated with them at times. The management understands this and intentionally builds on the feeling of relationship with the community. I honestly don't know this for sure, but I would be very much surprised if a certain amount of community relationship work isn't written into the players' contracts.
So, I feel like I get to know them. I recognize who is at bat because of his specific stance and the individual idiosyncrasies he seems addicted to between pitches. I recognize the pitcher as he jogs in from the bullpen. Well, except for this year when there is someone new almost every game.
I was thinking about this last week when Pete Rose was inducted into the Reds Hall of Fame. On Friday night they had reunited the 1976 Reds, arguably the best baseball team ever. It was cool to see them. There is still a bond between this collection of players and the city that runs very deep. Yes, they were winners. That never hurts.
But there was a feeling that these were our guys. And we loved them. Sometimes we hated them, but we still loved them.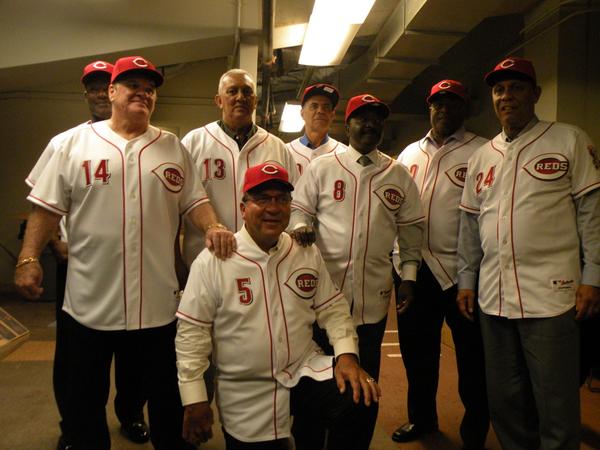 That night one of the speakers said something along the lines of, "this team was ten years in the making." When I heard that, it dawned on me that this wasn't just some stroke of amazing good luck that Cincinnati had such a collection of talent. There was business off the field involved.
But I don't want to know about that.
I've been reading and hearing rumors of possible trades involving some of the best players we have right now. This kind of talk breaks my heart. I hated it when they traded Todd Frazier last year, and now the rumors are flying about Jay Bruce and Zach Cozart. I can't imagine the Reds without either one of them. I just can't seem to get my mind around the kind of thinking that considers trading away a player who is at the top of his game.
On the other hand, there are some new guys that I really enjoy. Eugenio Suarez comes to mind. He has been a fantastic addition to the team. Not to mention the fact that it's so much fun to yell his name. (Ay-you-ay-knee-oh! – or something like that.)
So, I guess I'm glad there is someone like Reds owner Bob Castellini who is responsible for making the business decisions, because I certainly couldn't do it. This way I have someone to whine and complain to when I hate that one of our best players is traded away for a few unknowns (to me, at least).
Maybe we are beginning the process of building a new Big Red Machine. I hope so. But in the meantime, I want to love our team without the trades ripping my heart out.
Is that too much to ask?
Lloyd