I've been wanting to write this post for a long time, but I've been afraid. We live in a highly charged and divisive time, and I have no desire to add fuel to the fire. I believe we should be able to express our opinions freely, and respectfully disagree on important topics like this without resorting to name-calling.  So, I think the time has come for me to man up and just put it out there. It's time to express my opinion on what is sure to be a controversial issue…
Here are what I believe to be Cincinnati's most noteworthy cheeseburgers.
Before I dive in, I want to make sure we all understand what I'm doing here. The words of the title are carefully chosen.
First of all, notice the word "Cincinnati." So far, the best cheeseburger of my life was consumed in 2007. It was "The Haunted Hamburger" in Jerome, Arizona. It was the perfect combination of a great burger at the best table, with the best view, in a unique location on a vacation with some of my best friends. We sat on a small deck on the side of a mountain over a vast expanse of valley with more mountains in the distance, watching the sun set on a perfect evening. The experience is etched in my memory as one of the most enjoyable and satisfying meals of my life.
But it's not on the list. It wasn't in Cincinnati.
Second, notice the word "noteworthy." This is not a ranking. These are not listed in order of my favorite to least favorite. I will be clear at the end about which cheeseburger is my favorite in the city, but the rest are merely a list of what I consider to be noteworthy culinary experiences. The burger I desire on any given day could vary with my mood. And to be perfectly clear, being "noteworthy" doesn't necessarily mean I even like it.
Third, notice the word "cheeseburger." If you're not going to put cheese on it, why bother?
So here we go, in alphabetical order…
This is a local restaurant and bar on the northwest side with a friendly staff and regular patrons. They have added a new "stuffed" burger which I recommend. The filling varies so you'll have to ask what's in it. The last time I was there it was a "Reuben" burger stuffed with corned beef, sauerkraut, and Swiss cheese. It was wonderful. But if you're more of a purist, get the "Naked Burger" or the "Bacon Cheddar Classic." You won't be disappointed. Get the beer battered fries to go with it. They are outstanding!
This is a small chain with locations in Ohio, Indiana and Kentucky. The Cincinnati location is right downtown on 6th Street making it a great place for dinner before a baseball game. Sit on the covered patio during the summer. They offer a variety of burgers with unique toppings. So far, my favorite is the "Mexicali BBQ Burger."
Also, I love the onion rings! One more thing: they make their own catsup. Or, is it ketchup? I'm never sure. Either way, stay away from it. They'll bring you regular catsup (ketchup) if you ask for it. And you should.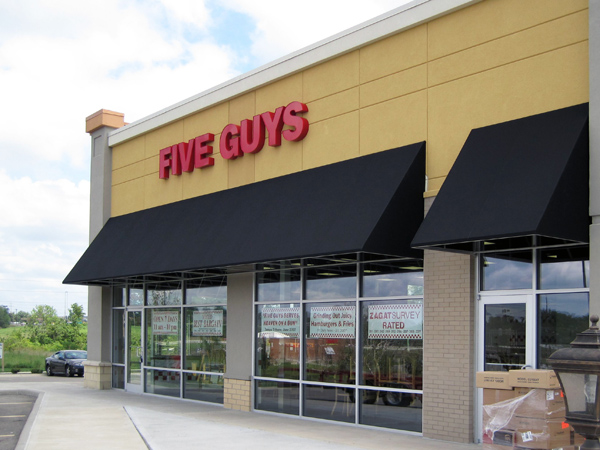 You know this place. You can find them all over the country. If you want a perfectly cooked basic cheeseburger with no frills, this is place. They know what they're doing. Plus, their fries are fantastic!
There are four locations in northern Kentucky and Cincinnati. They offer quite a few unique burgers, but what makes Flipdady's noteworthy is the meat itself. Here's what they say about it: "We have our very own awesome proprietary blend of premium quality cuts of brisket, short rib and chuck. Years of research, tasting and tweaking went into creating this blend." I don't know about all that, but it does taste good. I've had a few of their "brilliant" burgers including the Gaucho and the El Paso. Both were quite tasty. They also serve a "Burger of the Month" to add some variety to the menu. Oh, and you should try the Beer Cheese appetizer with the pretzel bites. Mm, mm!
This is a small local joint in Pleasant Ridge. I suppose it's mainly a bar but the atmosphere is cozy and welcoming. Be careful when ordering. My first time there I made the mistake of ordering a "Cheeseburger Deluxe." Sounds good, right? Wrong. It was ok, but nothing worth ordering a second time. Go down the menu a little farther to the "Gas Light Favorites" section and order the "Gas Light Burger." There's a world of difference! It's twice the burger. No fancy fixin's but a delicious, juicy, perfectly cooked burger that is very satisfying. After dinner you can go next door and browse Everybody's Records, one of the few remaining record stores.
Mad Mike's is noteworthy to me for personal reasons. They opened in an old run down building that was occupied for years by The Chili Company. The building sat empty for many years and fell into a sad state of disrepair.  It sits on an awkward triangular lot at a busy intersection which I pass several times a week. For a long time I just wished someone would just tear the place down to open up that corner and rid the community of the eyesore. However, when Mike opened up a burger joint I shouted, "Hallelujah!" and did all I could to help the business succeed. To be honest, the service and the food have been inconsistent. It started out great, but kind of slipped for a time and lost my support. But it seems to be on the rebound again.
The building and parking lot still look a bit run down, but don't let that keep you away. The burgers seem to be grilled somewhat differently than most. They have a slight crunch on the outside, but juicy and tasty on the inside. My favorite is the "American Outlaw." I don't know what they put in that "Mad Sauce" but it is wonderful!
Really, who doesn't like Red Robin? "Yummmm!" Yes, they're a little pricey, and it's not really a "local" business, but I haven't had a bad burger there.
If you truly want a unique experience, this is it. The place has been featured on Guy Fieri's Diners, Drive-Ins, and Dives. The burgers are all hand formed. You can get them topped with any of 10 imported cheeses and 12 specialty sauces, including wasabi, béarnaise, mango curry, peanut garlic and more.
You might be interested in trying his famous filet mignon chili. Don't ask me why you would want to put a filet mignon in chili, but Terry does it. It's a small dive with limited parking on Eastern Avenue so be prepared to wait for a seat at the busiest meal times. While waiting for your delicious and messy burger to arrive, you can occupy yourself by simply looking around at all the amazing neon signs that Terry has collected.
This is another small local business located in Northside. The burgers are good, but it's worth going just for the rock & roll themed names they give them. There's Buns & Roses, the Nom Petty, the
Red Hot Chili Peppers (you can guess what's on that one), the Meatallica, etc. The last time I was there I went with the basic Bread Zeppelin. The kid's menu features Bean Day, Bun Jovi, and Fleetwood Mac & Cheese. Oh, and don't forget the milk shakes! I had the Oreo Speedwagon.
I think Zip's is noteworthy for being so over-rated. It seems like every list of top burgers in Cincinnati includes Zip's at or near the top. Apparently people really like it. Honestly, I don't get it. When I was there it was very crowded and we were seated at a long table with at least 15 other people we didn't know.
It normally doesn't really bother me to share a table with strangers, but this seems to be a popular neighborhood place where everybody knows everybody else. I felt like we were intruding on a family gathering. The burger was just ok, in my opinion. I think I'll just leave this place for the yuppies in Mt. Lookout. They seem to like it. Oh, I did think the model train circling the place near the ceiling was pretty cool.
My Favorite Burger in Cincinnati
I kind of hate to admit it, but my absolute favorite burger in Cincinnati right now is found at a national chain…
I avoided going to this place for a long time simply because I couldn't get past the name. I've been to lots of service stations and garages where mechanics work on your car and change your oil. I wouldn't want to eat at any of them. Eventually I was with a group who decided this where we were going so I relented.
And I discovered the Arizona El Camino burger. Oh my! I don't like to get my hands messy when I eat, so I generally have to eat this with a fork. Until I can once again make the trip to Jerome Arizona, this one will do. Must be something to do with Arizona. Anyway, it is, in my opinion, far and away the best burger in Cincinnati.
P.S. – Don't go on "Bike Night" (Thursdays). Unless, of course, you ride your Harley…
Of course, I'm always open to trying new places in my never ending quest for the perfect cheeseburger.
Lloyd