Last summer there was one of those snarky "bash-modern-worship" posts making the rounds. I share the author's concern about congregational singing and have some of my own thoughts about why it seems to be declining (I may share those in a future post), so, I read it. It made me mad. It just rubbed me the wrong way, so I just let it be.
Then one of my friends sent it to me and was interested in hearing my response to the article. I don't like the article, but I like my friend, so I decided to read it again and jot down a few quick responses and send it to him.
I came across that document today.
It seems many of these same complaints (along with the same condescending attitude) still persist, so I decided my response to my friend might make a worthwhile blog post.
What follows is a slightly edited version of what I wrote for my friend…
---
Some thoughts and responses to Jonathan Aigner's article, "Why WOULD Anyone Sing in Church These Days?"
"We began by changing our understanding of corporate worship. It's not for the church, it's for those who aren't part of the church."
I admit that this has been a struggle throughout my career. Who do we plan Sunday morning for? Where I've always landed is that we plan the service as a time of worship for believers, but with the knowledge that unbelievers will always be there. Consequently, we do everything we can to help them understand what we're doing and saying. We use new music, and modern art forms and references, not to appeal to unbelievers, but simply because we're planning services for believers in the 21st century, not the 17th.
"…we've decided that the singing alone is the "worship," followed by preaching or teaching time (NOT worship)…"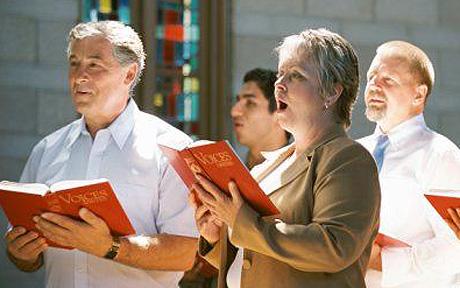 Again, I admit that I've heard the music set referred to as "the worship time" (I've even caught myself doing that) and that's a mistake. But it's simply not true to say that we teach that "singing alone is worship." Every week we participate in the Lord's Supper, give material gifts in the offering, listen to scripture preached and taught, sing together, listen as others sing, watch a video, celebrate baptism and more. We teach that everything in the service is worship and try to explain how that's true.
"So, while music was once simply a way to add dimension to our sacred storytelling, we began to exploit its emotional appeal, suggesting the feelings it could evoke to be authentic spiritual connection."
Seriously? I would suggest that music has always been used for its "emotional appeal." And, why not? Certainly, worship is far more than an emotional experience. But how can worship ever not involve your emotions?
"Our cultural ability to make music has decreased steadily since the dawn of commercial recorded music…Now, most churches have given in to the cultural decline of music appreciation. Instead of training many of our own, we hire a few to stand up and perform from the stage."
I think I know what he means by "make music." It's the music he likes and approves of. Anything else doesn't even deserve the term, in his opinion.
Here's the thing: We have a whole generation of young people who do know how to "make music." Their notation style is not that of the classically trained musician. They may not be able to read notes on a musical staff, but they've learned to improvise from a lyric sheet and chord chart, and play by ear. Most classically trained musicians struggle with all these things. How is this not "making music"? The accusation he makes above about not training our own strikes me as absurd. Training our own is exactly what we do. And, in order to "make music" the way he describes, it would necessitate exactly what he decries: "hiring a few to stand up and perform from the stage."
I suggest that the training of our own should also involve retraining some of our musicians to be able to hold their own with these young musicians who are improvising from a chord chart. Sadly, most of these folks are either unable, or unwilling to do this. In fact, many would consider it beneath them to do such a thing.
Most churches have trouble putting both types of musicians together in one team. I believe (in all modesty) that this has been one of my strengths. I have worked over the years to combine these people and train them to work together. It hasn't always been easy, but I believe it has been worthwhile.
Also, as an aside: since when was the church's mission to foster "music appreciation"?
Oh, and one more thing: he uses the word "perform" intentionally as a negative term. This really gets under my skin because it's all performance. What we have to teach (and maybe don't do well enough) is that the congregation is expected to "perform" as well. If the leaders (musicians, singers, preachers, tech crew, ushers, greeters, etc.) don't "perform," they're not doing their job. We're all there to perform worship.
"We have a rich history of hymns and songs dating back centuries, set to beautiful, singable melodies with a rich harmonic framework, a group to which each generation added their best. Then we decided we didn't need these anymore."
What about this generation? He can't have it both ways. Either each generation gets to add their best or they don't.
"So, we stopped empowering those among us who do read music to use those gifts. And we stopped expecting anyone else to learn."
See my thoughts on reading music notation above.
"We used to have these majestic and beautiful instruments, with infinite musical palettes…"
"Majestic and beautiful instruments" that could only be played by a single, classically trained musician hired to perform.
"What's more, few of these leaders it seems are capable of just plainly, accurately singing the melody. Some of them croon with a whiny, closed-mouthed tone, turning every vowel into an ee-ended diphthong."
Ok, crooning? Really? For that I just offer you 3 words: George Beverly Shea. Also, I think his musical arrogance and bias really comes through in this paragraph and I would just stop reading here…
Lloyd